[ BHAGAVAT CREASE VOL,1]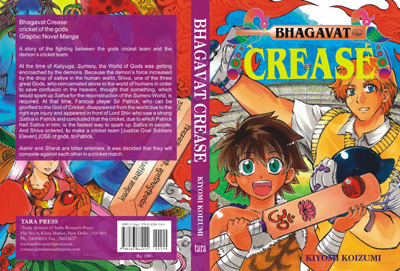 Title :
BHAGAVAT CREASE VOL,1
Pages :
204 [chap1-chap4 ]

Author :
KIYOMI KOIZUMI

Editor :
MANGA AIRPORT CO.,LTD.

Language :
English
Binding :
Left
Format :
SoftCover
Price :
Rs 199 [ SAMPLE: Click the image ]
shop :
TARA PRESS [ coming soon ]
-SUMMARY-
Chap 1 :

(54pages)
At the time of Kaliyuga, Sumeru, the World of Gods was getting encroached by the demons. It is because the demon's force increased by the drop of sattva in the human world.
Shiva, one of the three great Gods, who reincarnated alone to the world of humans in order to save confusion in the heaven, thought that something, which would spark up sattva for the reconstruction of the Sumeru World, is required.
At that time, Famous player Sir Patrick, who can be glorified to the God of Cricket, disappeared from the world due to the right eye injury and appeared in front of Lord Shiva.Shiva saw a strong Sattva in Patrick and concluded that the cricket, due to which Patrick had Sattva in him, is the fastest way to spark up Sattva in people.
And Shiva ordered, to make a cricket team [Justice Oval Soldiers Eleven] J.O.S.E of gods, to Patrick.
Chap 2 :

(46pages)

Aamir and Sharad are bitter enmity. It was decided that they will compete against each other in a cricket match.
For some time now, Gods had recognized their true ability and in order to train the two people they were accepted as members of Team Jose. The reason why they were accepted was because peace in the world was dependent on them.
Chap 3 :

(48pages)

Destroyed temple in the village.
And the rumor was that the culprit was the team which Sharad belongs to. Due to that rumor, the team was weakened as members left.
At that time, Ajunan brothers appeared proposing a match with the team identifying these 2. They said that this match is the opportunity to regain the reputation of your team. Sharad appointed Aamir as the batsman and accepted the offer on condition of 1-over game but, demons were supporting Ajunan brothers. What is the purpose of this match by Ajunan brothers!
Now certainly, the fight, between these 2 from "Team Jose" which is selected by Gods and 2 connected to demons, is kicked off.
Chap 4 :

(52pages)

Kila and Lalu, who came to know that Amir and Sharad are the members of JOSE, made a drama and turned villagers' hatefulness towards Amir and Sharad. It was just because this hatefulness was the motivating force for Kila & Lalu. Then recovered Lalu again challenged a game. Amir follows the instructions by Pattrick, however, Pattrick considers "Sharad as the captain" and leaves the instructions to Sharad. Sharad and Amir are tossed by the excellent bowling by Lalu. On the other hand, Pattrick, despite the noisy villagers, guesses that the reason behind the fall in Sattva in the villagers lies in the underground mineral vein which has started triggering.